Families Together Services | Strengthening Resiliency through a Relationship-Based Approach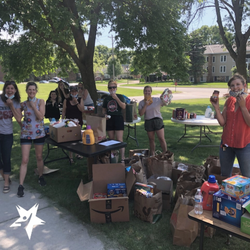 Immediately following the riots in Minneapolis and Saint Paul in June, many areas in the metro were experiencing grocery store closures and transportation challenges. For individuals and families living in those affected areas, the situation quickly created a critical-need for access to basic supplies. This included families that Lifetrack supports through our Families Together (FT) programs, specifically home visiting and the therapeutic preschool.
Even though services like the preschool were closed during this time for safety concerns, FT team members remained actively committed to providing support in any way necessary. After connecting with families and hearing their concerns, the team knew they needed to find a way to bridge the access gap or many of these families would be without food and other basic supplies.
The FT team gathered together to discuss how to proceed and it was during this meeting that they became aware of a place in Eagan called The Open Door. This non-profit is dedicated to ending local hunger through access to healthy food. During the riots, their food pantry was partnering with organizations across the metro to ensure food was reaching families most affected. The FT team jumped into action, contacted The Open Door and was invited to pick-up food. 
The team and our school buses were promptly mobilized to pick up food that very same day. Because of this dedication and commitment to Lifetrack's mission of strengthening resiliency in those experiencing the greatest disparities, 21 preschool families and 24 home-visiting families received food to help them through this challenging time. The food delivery was a complete surprise to all the families. The FT team reported tears of joy and gratitude from everyone involved.
While this effort was not within the parameters of any FT team member's job, the relationships and trust they have built with the families they support showed that it was clearly within the parameters of their own hearts. Thank you, Families Together team members, for continuing to live Lifetrack's mission.