Families Together Services | Josh and Nate's Story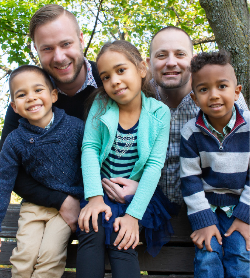 "When a 4-year-old has a panic attack, no parenting class can prepare you for that," said Josh Booth. "It's heartbreaking. You feel powerless."
Such a crisis happened shortly after Josh and his husband, Nate Hamblin, became foster parents to then 4-year-old, Raelynn, and her two younger siblings, Rayvon and Rayjoun.
Fortunately, Josh and Nate had a lifeline. Raelynn had been attending Lifetrack's Families Together Therapeutic Preschool, which uses a trauma-informed, team approach to help children deal with a wide range of stressors. Therapists at the school also empower parents with the tools to create a nurturing home environment. Josh was counting on this expertise when he called Raelynn's therapist at Lifetrack. He quickly received guidance to calm and reassure Raelynn during the panic attack.
Three years later, Josh and Nate are no longer the children's foster parents. Now, the three kids call them "Daddy Josh" and "Daddy Nate"! Earlier this year, Josh and Nate became the adoptive parents of daughter Raelynn (6), and sons Rayvon (4) and Rayjoun (3).
Before joining their adoptive family, Raelynn, Rayvon and Rayjoun spent most of their lives in foster care. "We can't be sure of everything they went through," says Nate. "It breaks our hearts to think of the uncertainty they felt. We see that in how much they crave our affection and attention."
Having access to Lifetrack's supportive services has been essential to their children's well-being. These types of vital services can become a financial burden for many families. Because Lifetrack is able to offer these services at low or no cost, Josh was able to dedicate his time to providing constant stability as a stay-at-home dad.
"Being a stay-at-home dad has been a huge benefit," said Josh. "Early on, the kids had a real fear of abandonment—especially Raelynn. With me at home, we are able to provide stability and support. That has had a dramatic positive effect on their development." Raelynn was the most affected of the three children by the instability and trauma of life before Nate and Josh became her parents."
Rayvon, too, had challenges to overcome. He had speech issues, and his inability to articulate his feelings caused him to act out. Lifetrack's therapeutic preschool provided speech and other therapies to help him learn how to communicate and interact positively with others.
The youngest, Rayjoun, has benefitted from the fruits of the program. With the support of Lifetrack's therapeutic preschool staff, Nate and Josh have learned skills that help their kids understand—and experience—love and trust.
"If you deal with kids who have had trauma, as a parent you get overwhelmed. There are not a lot of resources to call upon," Josh said. "That's what makes Lifetrack so special. The first week the children were at our house as foster kids, a Lifetrack therapist came to our house every day. She was a familiar face to the kids, which was so reassuring."
With Josh and Nate's love, and the support of the caring staff at Lifetrack, all three kids have blossomed. Raelynn is now an outgoing girl who loves to dance, read and play with her friends. Rayvon has developed verbal skills and enjoys sports, especially soccer. Rayjoun is a happy, active preschooler who has been able to be successful at a standard preschool program.
These days, there is a lot of singing and dancing in Josh and Nate's home. Thanks to a lot of love, hard work and the support of Lifetrack, these loving parents have settled into raising three active kids, juggling school activities, swimming lessons, playgroups and social events.