Employment Services | Rose's Story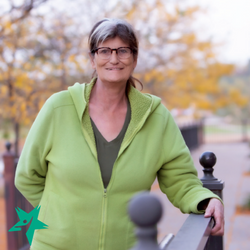 Rose prides herself on being a hard worker, even when things don't come easy – and many things haven't come easy for Rose in the last 63 years. She was raised in Saint Paul's Eastside neighborhood where she still lives today. Her father died when she was only 12. She attended Johnson High School, receiving special education services to help her with a learning disability.
After high school, Rose married her husband, Kevin, with whom she has two daughters. Through the years, jobs were often hard to come by, but she found a rewarding career as a housekeeper in the hotel industry.
"Back then, you were assigned your own floor of hotel rooms," said Rose. "I had to clean 15 rooms a day, and sometimes I'd be assigned additional rooms that I had to get done during my shift. So, I learned to focus on the tasks in front of me."
In the early 2000s, Rose left her job to take care of her mother who had entered in-home hospice care. Throughout this long, heartbreaking end of life Rose was by her mother's side.
Since then, it's been difficult for Rose to find lasting work. She and her husband hoped to be able to support themselves on social security, but Rose didn't have enough employment credits to retire with benefits. She relentlessly looked for a job that would help her qualify for social security.
"Every time I did an interview, they'd turn me down," Rose said. "They'd say, 'Sorry, we can't hire you.' I got so upset. Was it my age? Was it my disability? I didn't know. When I found out about Lifetrack, I felt my life had been saved."
Lifetrack's Employment Services works with people who have disabilities and people experiencing poverty. Through career exploration, training, placement and coaching, Lifetrack career counselors help clients identify ways to improve their chances of being hired.
Rose's counselor, Sydney, worked with her by looking at job postings together, reviewing applications before Rose submitted them online and helping her get ready for interviews. 
"The biggest thing Sydney helped me with was how to do an interview," Rose said. "I wasn't presenting myself well. She conducted mock interviews with me so I could be prepared. "
The preparation paid off. Even with no background in retail, Rose was offered a backroom inventory job at a nearby clothing store.
Rose receives ongoing support from Lifetrack. Sydney checks-in with Rose weekly and she provided emotional support when Rose had to take time off work because of possible exposure to COVID-19. She was thrilled when she found out she tested negative and was able to return to work when she was medically cleared.
When they're not working, Rose and her husband enjoy the benefits of living near their two daughters and five grandchildren. They often gettogether at a local park to safely celebrate family birthdays or watch the grandkids play ball.
Rose feels confident about her future and is grateful for Lifetrack. "Because of them, my husband and I will be able to support ourselves in retirement. It's hard work, but that doesn't scare me."