Employment Services | My Story of Heartache to Success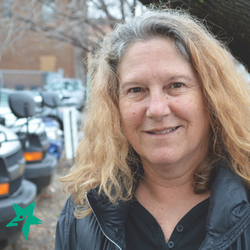 My life took a major turn when I decided to quit drinking in my 50s. I had to rebuild my life from scratch as I uncovered why I drank in the first place. I drank to conceal the trauma and pain I experienced as a child. I wasn't addressing mental health issues I was facing, mainly because I didn't know they existed. I learned a lot about myself during that time and realized that I wanted to be somebody who makes a difference.
I discovered Lifetrack through a meeting with Vocational Rehabilitation Services (VRS), where we discussed my disabilities and opportunities for employment. They offered me the option of participating in placement services with VRS or working with the Partnering for Jobs program through Lifetrack. I chose Lifetrack because I was told they would be able to provide me with a strong support system and the ability to meet with me on a consistent basis.
When I connected with Lifetrack, I was at the end of my unemployment supports. I didn't have a job and was recently fired from my previous position. I didn't know what to do or how to open up about my situation. Every time I turned around, I was losing another job. It made me afraid to go back to work. I didn't know what direction to go and really had to learn how to trust people again.
Lifetrack provided me with so much support to get me where I am today. Not only were they there for me when it came to finding a job, but they were there for me emotionally as well. I was able to open up and build a relationship with my job coach, Sierra. I received assistance updating my resume, looking for and applying for jobs, and Sierra connected me to resources outside of Lifetrack to ensure I was prepared for work.
Throughout my journey with Lifetrack, I worked as a bus monitor through a school bus company and a cafeteria assistant at an elementary school. After completing those positions, I decided I wanted to try something new. I wanted to shift my career path, so I took a seasonal position as a parks maintenance worker.
While working this job, I discovered a true passion for working outdoors and utilizing physical skills to get the job done. At that point I decided to obtain my Class B license. Sierra and I jumped through a lot of hoops to obtain that license. We studied for the Class B permit test during many meetings in order to prepare. I took the permit test four times, passed the airbrake test, obtained a tanker endorsement, went to DCTC for coursework and then passed the pre-inspection and driving test.
None of this came easy — it took a lot of hard work and dedication. As a result of this hard work, I have officially been offered a full-time position as a transportation associate at a reputable company. I will be working in parks and on roadways, as well as plowing during the winter months.
Working with Lifetrack gave me the desire to re-enter the workforce. For a while, I was so lost with what to do with my life that I stopped caring. This service gave me the chance to uncover my potential and realize that I can pursue and accomplish my goals. Work is such a satisfying part of life and I love the opportunity to learn and grow.
I appreciate the time I was able to spend with Sierra. We had a lot of fun! Even though there were ups and downs, there were so many positive experiences that came from working with Lifetrack. There was a lot of stress and weight lifted by the support I received. I am forever grateful. Thank you for giving me the opportunity to share my story!