Deaf & Hard of Hearing - Family Services | Callie's Story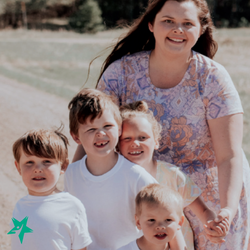 Callie knew early in her first pregnancy that something wasn't right. When a medical professional confirmed her suspicions with a diagnosis of congenital cytomegalovirus (CMV), Callie was overwhelmed. Babies born to mothers with CMV have a higher risk of developmental and motor delays, seizures and hearing loss.
"I was 16 years old, and I didn't know how I was going to raise a child who had these challenges," Callie said. "Of all the things that could be wrong, no one said she might be deaf, so we were shocked when she didn't pass her hearing test."
Eight years ago, Callie and her then boyfriend, Randy, whom she would later marry, welcomed their daughter Dixie. She was born with cerebral palsy, vision loss and profound deafness.
This was the beginning of an emotionally exhausting journey for the new parents as they struggled to figure out the right things to do for their daughter. After several failed attempts with hearing aids and cochlear implants, Callie knew they had to try a different approach, and she knew they couldn't do it alone.
Callie said many decisions after Dixie's birth felt complicated by Dixie's medical issues beyond her deafness. She could only eat pureed foods, didn't walk until she was 3 years old, and required daily physical therapy.
"When you have a kid who is born different," said Callie, her voice breaking at the memory, "you're bombarded with everything you need to do, and you get conflicting advice from family and doctors. I have a lot of guilt and regret — for lost time, especially teaching Dixie a way to communicate."
That's what led Callie to Lifetrack's Minnesota Hands & Voices and the Deaf Mentor Family Program.
• Minnesota Hands & Voices is a community of families with children who are deaf or hard of hearing. Our staff themselves are parents of these diverse and wonderful children who are deaf or hard of hearing. Together, we share the same emotions, decisions, and questions as the families we serve across the state. Minnesota Hands & Voices offers information, support, and referrals to families at any point in their journey with their child who is deaf or hard of hearing, but especially for those families just starting on their path.
• Lifetrack's Deaf Mentor Family Program provides home visits from a Deaf Mentor — a person who is living with a hearing difference. The mentor works with the whole family to learn American Sign Language (ASL).
Thanks to these Lifetrack programs, Callie knows personally the value of talking to other parents who have a child who is deaf. "They've been through this, so they know. That's what these Lifetrack programs gave us — connection with the Deaf community, and personalized, wonderful support."

The Deaf Mentor assigned to Callie and her family had two goals: to teach the family ASL and to help Callie and Randy learn how to raise a child who is deaf. Callie said she was nervous about the first time their Deaf Mentor visited their home. No one in the family knew sign language — not even Dixie — so Callie had no idea how everyone would communicate. Thanks to lip reading, writing notes, and using a few basic ASL signs, the Deaf Mentor soon had the whole family, including Dixie's siblings, involved in the conversation.
Callie says Dixie is still significantly delayed in language development, but the 8-year-old now turns to signing when she wants to say something, instead of grunting or screaming to get attention. Her mother knew they had turned a corner when Dixie was able to express her feelings using signs.
"It's really cool to see she has this nurturing personality," said Callie. "To see who she is inside — that's made all the hard work worth it."
Dixie isn't the only one in the family whose future looks brighter. Callie is now completing a Deaf studies program in
college and dreams of working in early intervention programs for children who are deaf. She wants to do for other parents
what Lifetrack has done for her — advocate for children and parents who need to know they don't have to do it alone.